Our Mission: A Stronger America
A message from Mark Schlicher, founder of IBuyAmericanStore.com…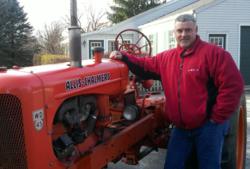 I was born and raised in a little town in Michigan, called Laingsburg. My father was a proud United Auto Workers union member, and my mother had two jobs outside the home – as a cashier and as a school bus driver. 
My parents taught me traditional middle-class values: that education would be key to my future; that I must work hard for what I get; and that I am personally responsible for my actions. To this day, I am so grateful to have been taught the lessons that have kept me independent and free.
It is my belief that Americans will choose to buy American-made products, if only they are aware of them. They will make the effort, and pay the higher cost. My intention in creating the IBuyAmericanStore.com website is to connect you with these products. This will help give us all an opportunity to take control of our own destiny. It will also send a message to more manufacturers that American-made products are in high demand, and that to capture our dollars, companies will need to bring those jobs home. 
Demand drives expansion, and expansion is what we need. I do not accept being a victim of politicians and foreign competition.
Start shopping now for American-made products »
---